Fife and Tealin Get Married
(wedding.jpg - pic not available)
Ahhhh. Here is that real life marriage we were talking about. See? It is different than a mud marriage. The players, in order of appearance: Tealin's dad Bernie, Fife looking MIGHTY conservative without his beard, and Tealin in a gorgeous, silk wedding dress.
Fife and Tealin, the Early Years
(tamike.jpg - pic not available)
Yes, Fife looks older now. This was Tealin's apartment in Anchorage a few years ago. The dude in the foreground (who supposedly looks like Ishtard) was a non- mudding friend of ours, who constantly gave us grief over our computer habit. Yes, non-mudders really do exist.
Fife Wears a Tree's Beard Goatee
(skitrip.jpg - pic not available)
Here we see the two intrepid mudders, skiing out of Resurrection Trail where they spent a few days in a little A-frame cabin. A little Tree's Beard lichen and ski wax transform Fife into zee zkiier wiz zee funnee muztache. At this point, with a broken ski pole, he was desperate for some amusement. The dude on the left is yet another non-mudding friend. Count them! Two, now!! Both of them went on that trip, as well as a BIG, RED dog named Hannable. We convinced Hannable to carry his own food in a canine back-pack. He convinced us to carry him up the ladder into the loft every night to watch us play Illuminati in the flickering candle light.
Fife Starting a Fire in Homer
(homer.jpg - pic not available)
Fife starts a fire, with no need of any proficiency whatsoever. The beach is out of Homer, Alaska across from the Homer Spit. This is one of the many kayak trips that both Fife and Tealin have made over the years. Hmmm, why doesn't Mystic have kayaks? Not shown in this picture is the rain, which for some reason wasn't falling in a never-ending drizzle that day. An extremely rare occurrence.
Fife and Kayaks in Homer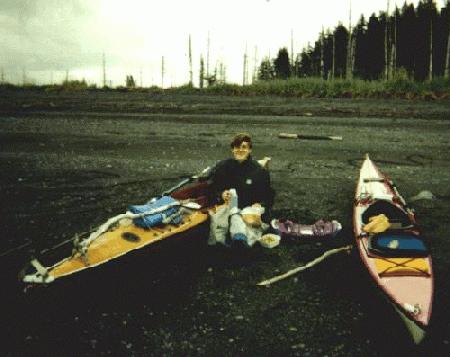 Fife rests on the beach for a little snack after a hard paddle. Tealin was taking the picture, of course. Her kayak is the fuschia one on the right. Fife has to settle for a borrowed boat. What's with the rather large stick tied to Fife's kayak, you ask? Well...there was this stick on the beach. And...it was smooth. And...it looked like it wanted to be to be a ditjeridu. Leave it the the Wandering Minstrel to find instruments that just aren't there. The stick is still around, not quite a ditjeridu yet. Actually, it's still just a stick.
---